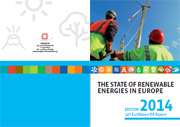 This publication provides a complete overview of ten renewable energy sectors, supplemented by two notes on concentrated solar power and ocean energy. Additionally, for the fifth year running, the EurObserv'ER consortium members have published their annual renewable energy share estimates of overall final energy consumption for each Member State of the European Union. This issue also provides with the importance of the sectors in terms of employment and turnover. For the second time, a chapter dedicated to investment in RES sectors in Europe shows how the sectors are making their way through the economic crisis. And finally, selected case studies show what new business models are emerging for the financing of RES projects.
Download in English
Download in other languages :

---
Your opinion matte
rs !
Please take a few minutes to answer our Reader Satisfaction Survey.
We would like to know more about how useful is our report for you,
what aspect you prefer and what information may be missing.
CLICK HERE TO ANSWER THE SURVEY
---