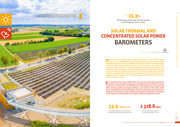 – 15.3% The decrease of the solar thermal market in the European Union in 2020
On balance, the European solar thermal sector put in a poor performance in 2020, as it compared badly with 2018 and 2019, when the sector seemed to be getting back on its feet. EurObserv'ER reports that the installed surface in the countries of the European Union to 27 is down by 15.3% compared to 2019, just under 2 million m2. The Covid pandemic is not the only reason for the sector's troubles but should bear part of the blame for the slowdown observed in several national markets during the first half year. Other solar thermal markets, such as Germany's, finally returned to growth, driven by the country's restated political insistence on decarbonising its heating and domestic hot water production needs.
Concentrated Solar Power (CSP) plants cover all the technologies devised to transform solar radiation energy into very high temperature heat for onward conversion into electricity. CSP development is being pursued in countries that offer suitably propitious sunlight conditions, such as China, Chile, India, South Africa, the Middle East, and the Maghreb. The only a sizeable production sector in Europe is that of Spain, and after champing at the bit for many years, the Spanish sector expects an initial tender for at least 200 MW to be launched in 2021.
Download in English
Download in other languages :