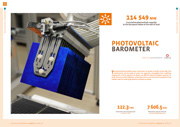 114 549 MW Cumulative photovoltaic capacity
in the European Union at the end of 2018
The global photovoltaic base continues to make inroads across the five continents. At the end of 2018, its capacity exceeded half a million megawatts, which equates to about 100 GW of newly-installed capacity. In 2018, China's market faltered, while there was a revival in the European Union market and the emerging markets picked up steam.